After finishing a couple intense days at the BOLD Conference our brains needed a timeout, not to mention sunlight. Seeing as I was flying so far I booked an extra day  in Palm Springs to see the sights with some new friends.  Me being me I did a little research and looked up some ideas before car rental time. Who would want to miss seeing a cool hotel or beautiful space!
Stop one, after coffee and picking up the car of course was Kings Highway at the Ace Hotel. Both of which I wanted to see in my one night in Palm Springs last year but never got to. I love a good diner and diner food. Even better I clearly love animal heads – check out the massive elephant made of rope! I am not sure who gets the design credit for that one! I do know that Commune and Ace's own design team Atelier Ace collaborated on the hotel and I assume the diner.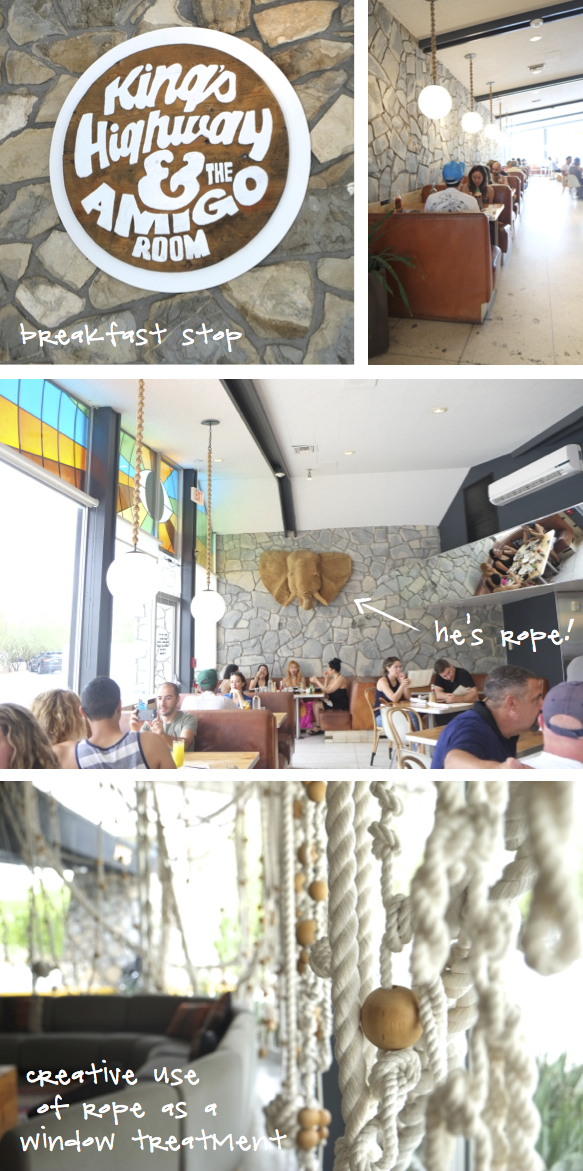 The photo above is actually the lobby of the Ace Hotel, right outside the diner and I was in LOVE with the cool rope design in the windows. How clever. Some people are just so imaginative. Now I wouldn't want to be the one to dust the display …..
Next up – exploring the Ace Hotel … stay tuned.
Photos taken at the Kings Highway in Palm Springs, Ace Hotel, 701 E Palm Canyon Dr, Palm Springs, CA 92264